Because we're here for the journey and the destination.
For over 65 years, First Transit has provided the transportation services people can rely on.
By using the unique talents of our diverse professionals across our division, we deliver on contracts of all types, sizes, and scopes. We are a leader in each of our principal business segments including:
Fixed route
Paratransit
Shuttle
Non-Emergency Medical Transportation
Autonomous Vehicles
Vehicle Maintenance
Our customers include transit authorities such as federal, state and local transportation departments and private institutions including colleges, universities, hospitals and airports.
Our market leading university shuttle bus portfolio is the largest in the USA, including partnering with several Ivy League colleges.
An area of strong growth and focus for us is the shuttle bus market, and we have contracts at airports across the USA including Detroit, Houston and Columbus. We have also launched a significant paratransit partnership with Lyft.
Get your career moving.
From our bus drivers and technicians to managers and support teams, every single person here is dedicated to delivering high-quality services that help our local communities prosper.
Join us and you can look forward to an exciting career and the training, support and opportunities you'd expect as a valued member of North America's leading transportation company. We offer a diverse range of jobs from operations and finance to management, maintenance and more.
Our University Connections
LSU
"Since First Transit took over the OnDemand service at LSU, we have seen ridership nearly double."
Yale
11 years
LSU
13 years
University of
Alabama
14 years
Rutgers
11 years
Georgia Southern
University
17 years
New Jersey City
University
17 years
The University
at Buffalo
17 years
Our Values
We provide easy and convenient mobility, improving quality of life by connecting people and communities.
Committed to
our customers
We keep our customers
at the heart of
everything we do
Dedicated
to safety
Always front of mind, safety
is our way of life
Supportive of
each other
We trust each other to deliver and work to help
one another succeed
Accountable for
performance
Every decision matters, we do the right thing to
achieve our goals
Setting the
highest standards
We want to be the best, continually seeking a better
way to do things
Drivers
Experienced & less experienced opportunities, comprehensive training, full & part-time shifts.
General Managers
Help keep our operations running smoothly and safely.
Technicians/Mechanics
Advanced technology, training, bonuses and more.
First in Technology
& Innovation
First Transit is leading the testing of shared autonomous vehicle (SAV) passenger shuttles with multiple initiatives across North America. In California, we have an exclusive agreement with the GoMentum Station testing center, where we carry out industry leading research and development. And we are deploying the USA's first commercially operated service on public roads.
WATCH VIDEO
JAUNT
JAUNT, First Transit's new state-of-the-art app, integrates all mobility modes available to passengers in one customer-friendly platform. The Jaunt app unites any type of available transportation service, including both traditional transit modes and innovative transit services.
LEARN MORE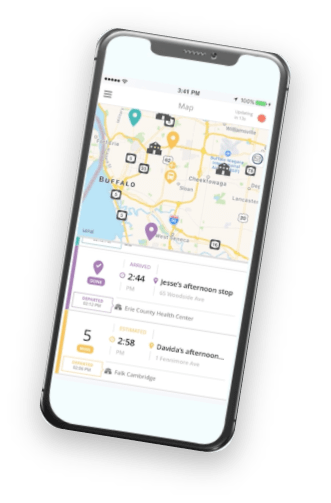 Wheelchair Accessible Vehicles (WAV)
We support WAV technology –– wheelchair accessible vehicles–– to increase reliable transportation options for riders with mobility challenges. This technology allows riders who use wheelchairs or scooters to request a ride that is guaranteed to be safe and operated by a driver who is certified in assisting people with disabilities.
LEARN MORE
Previous
Next
Why join First? One of the best reasons is the people who work here. They're talented, friendly, knowledgeable, helpful and successful. Meet some of them now and hear why they are proud to be part of the First team.
"I enjoy working for First Transit because I work with an elite team of management, drivers, and dispatchers. My job is fun and gives me freedom."
"I started with this company 18 years ago as a paratransit bus operator. It was my absolute favorite job (besides the one I have now). It was never just about driving a bus, but about knowing that I was making a difference in other people's lives. 18 years later, I am the Director of Training. I love what I do and I am so thankful for the career growth and opportunities First Transit has given me over the years."
Jennifer McKibbins
Director of Safety Training & Development
Jennifer McKibbins
Director of Safety Training & Development
"At First Transit, I love my job. I started 38 years ago and my contributions and efforts have always been appreciated and welcome. It's a dream come true to work at a place where you can enjoy each and every day. The organization really cares about you and your dedication and hard work pay off. Everyone is driving our company to be the best we can be. My best moments have been working as a team to accomplish our goals. We are all stronger and better, together!"
Timothy Mullen
District Manager
Timothy Mullen
District Manager
"First Transit has been a good place to work because the company has the desire to be better every day by listening to their employees and supporting them with resources."
Sangman Yoon
Location Maintenance Manager
Sangman Yoon
Location Maintenance Manager
"It's all about the people you work with and the culture. First Transit is really family-oriented and they really support you in what you want to do."
George Lee
SVP, Business Development and Marketing
First Transit
George Lee
SVP, Business Development and Marketing
First Transit
"We're a company that really has the interest of safety at heart. What's more, we connect people to their community. That's an awesome concept to build your business around."
David Perez
Vice President of Safety
David Perez
Vice President of Safety
Previous
Next
Serena S.Driver
Jennifer M.Director
Timothy M.DM
Sangman Y.Manager
George L.SVP
David P.VP Safety